Resize Video
Resize your videos for YouTube, Instagram, Twitter, and more - with a single click!
Choose Video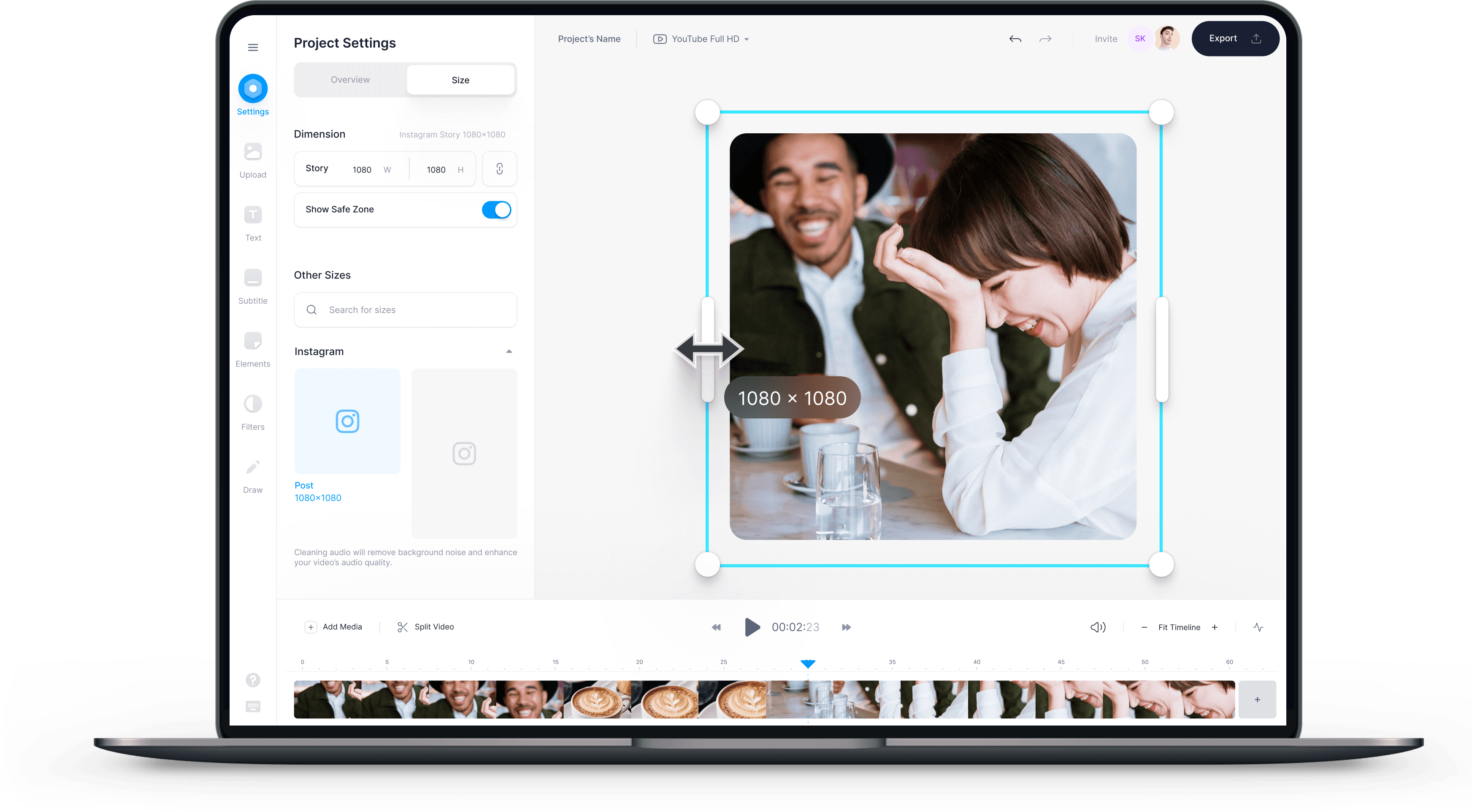 Resize your video files online, free!
You can now change the dimensions and aspect ratio of your video files with a single click! Whether you're uploading to YouTube (16:9), Instagram Story (9:16), Twitter, Facebook, Facebook Cover, LinkedIn, or need to resize your video for any reason, you can do it with VEED. VEED is a super simple online video editing app that works with mac, windows, and any mobile device. You can easily fit your video (of any format! MP4, AVI, MOV, and more) to the right size and dimensions. Resizing has never been easier - get the height and width of your video perfect, select output resolution, and more. Full HD quality video export, no loss in video quality, with VEED.
How to Resize your Videos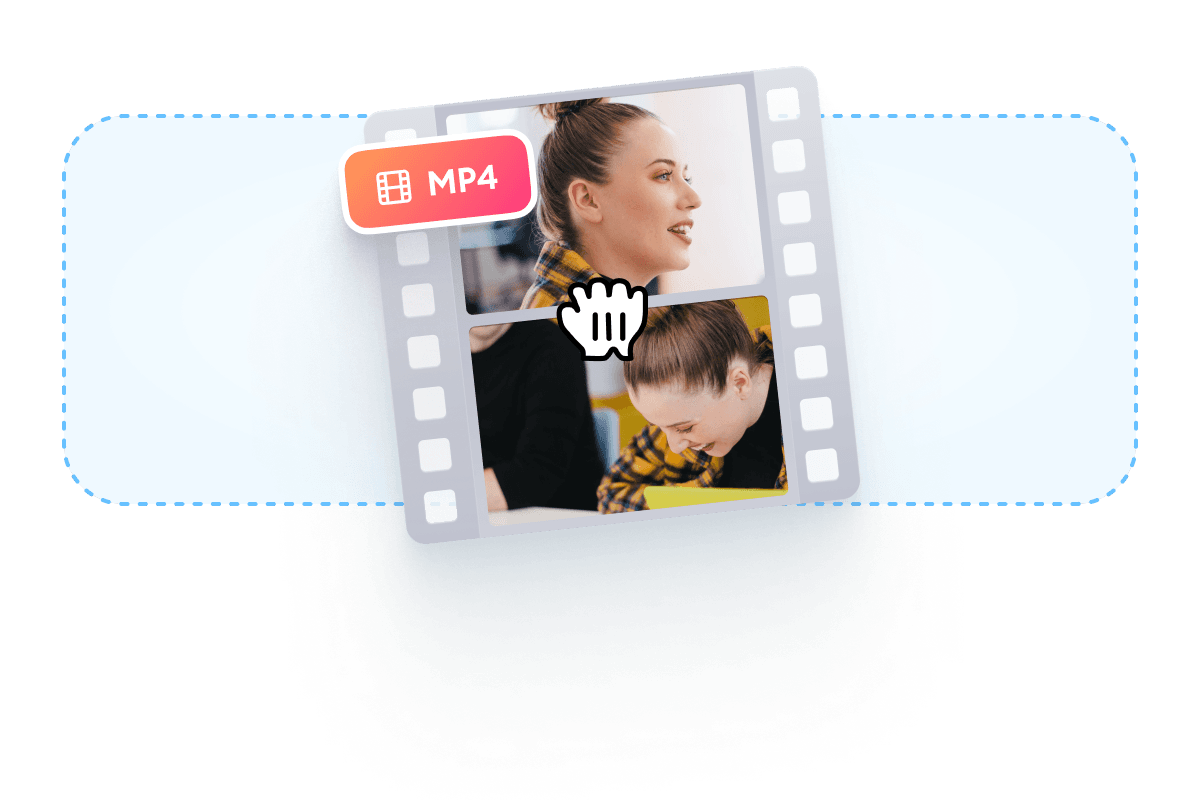 Add Files
You can upload your video files by simply dragging and dropping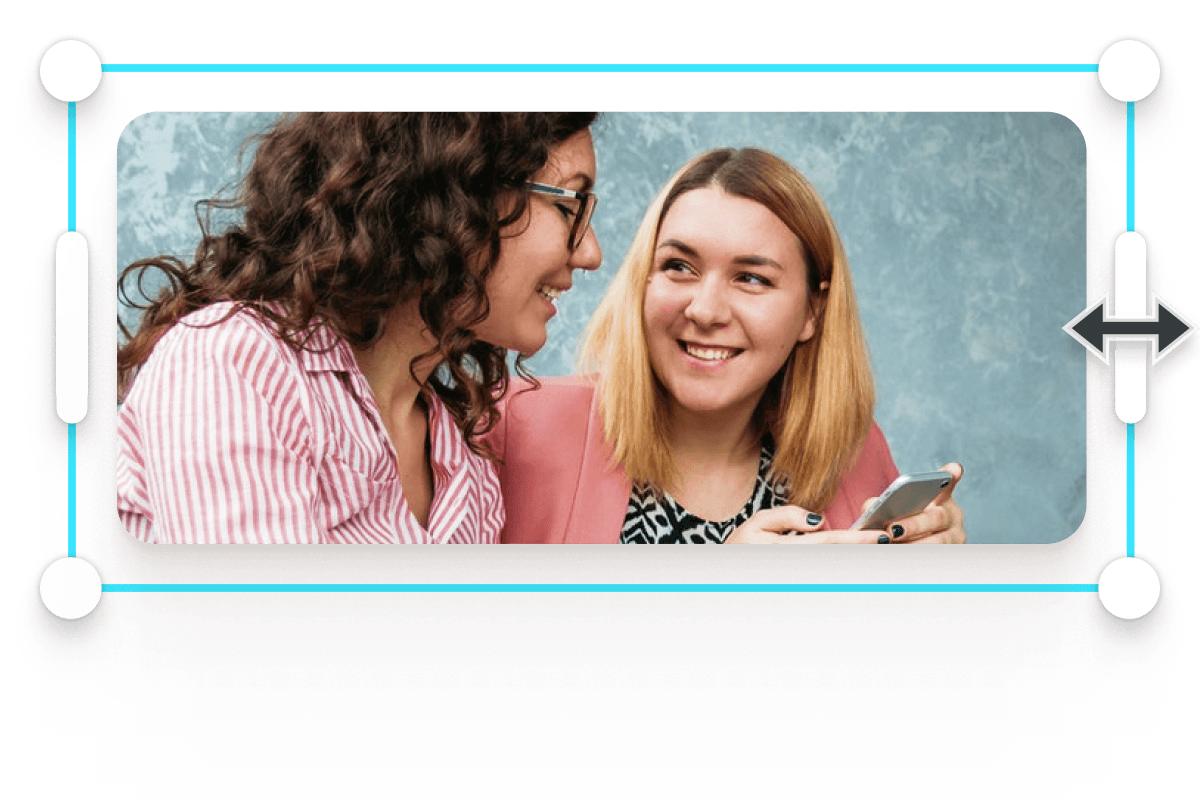 Resize
Click 'Settings' then choose the size that you need. Crop your video to make sure it fits perfectly inside the frame's dimensions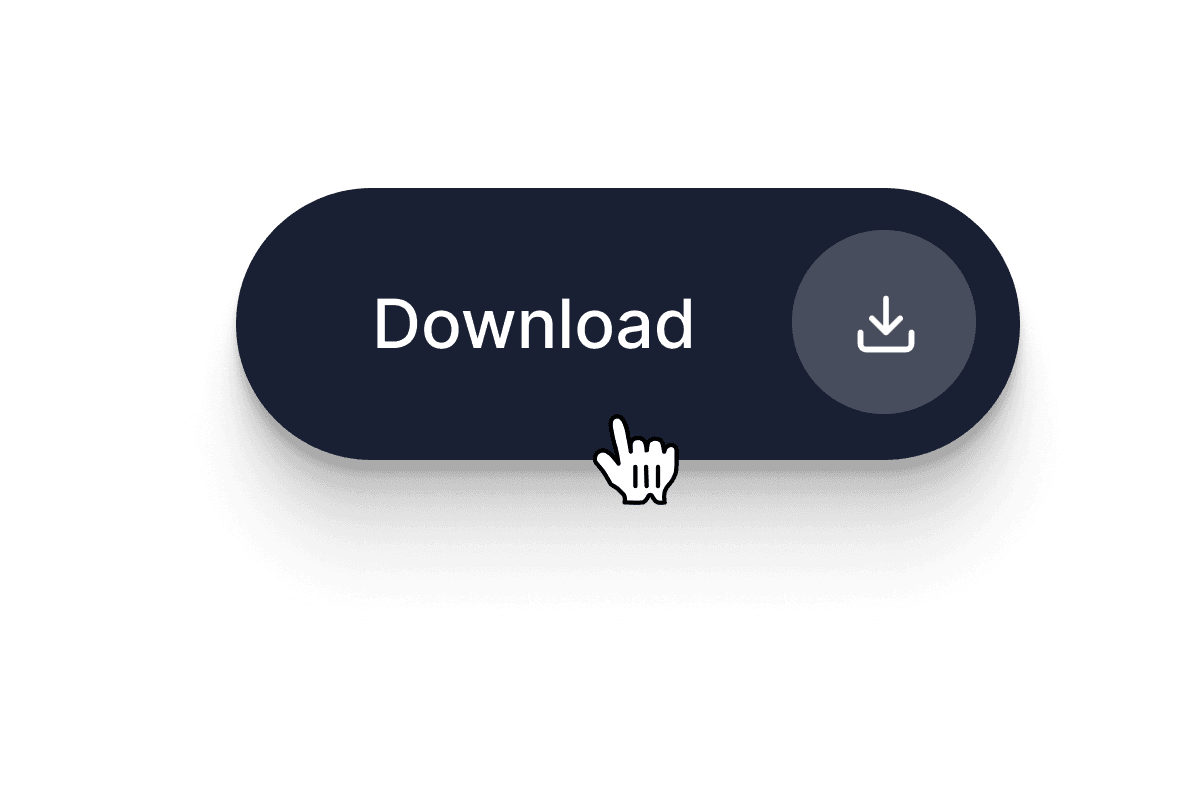 Download
And that's it! You can download your new resized, cropped video content. Nice!
Resize & Change Resolution, Without Losing Quality
With VEED you can maintain the quality of your video's picture while resizing the image to your exact specifications. Whether you're uploading a video from your camera, phone, tablet, or webcam, you can resize it to the right aspect ratio quickly and easily. VEED makes video editing simple, you can easily edit videos from home, no more need for expensive video editing teams. VEED is an app that works right in your browser. You can select your resolution (4k, 1080p, 720p, etc.) without loss of quality after you resize the canvas to the size you need.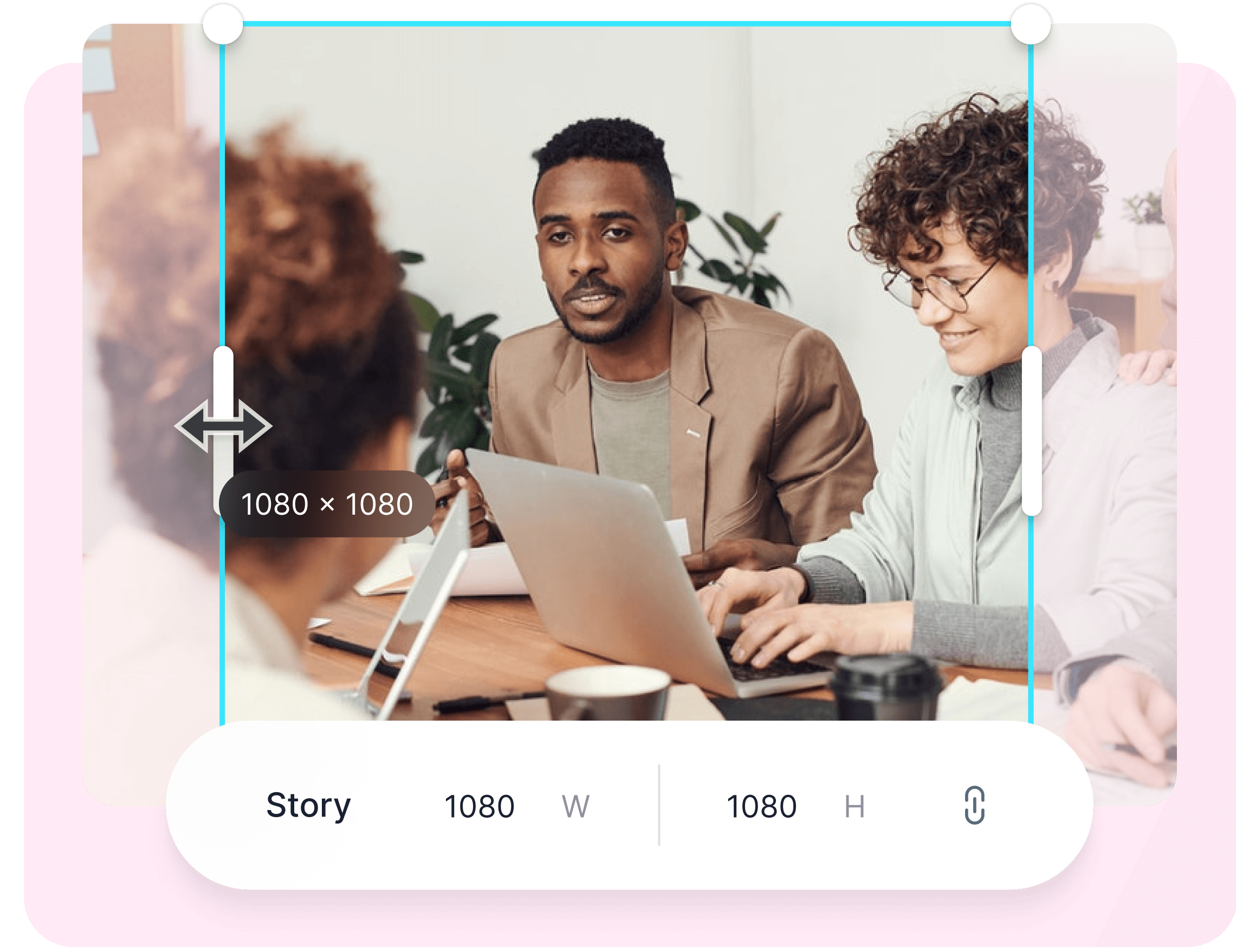 Resize for Social
Whether you're uploading video content to your YouTube channel, your Instagram account, your Facebook or LinkedIn homepage, or to broadcast over Twitter, we've got you covered. We've created some easy video editing tools that allow you to resize (change the dimensions of your video) to suit the requirements of social media platforms, with just a few clicks. Try our super simple video resizer now, to get started!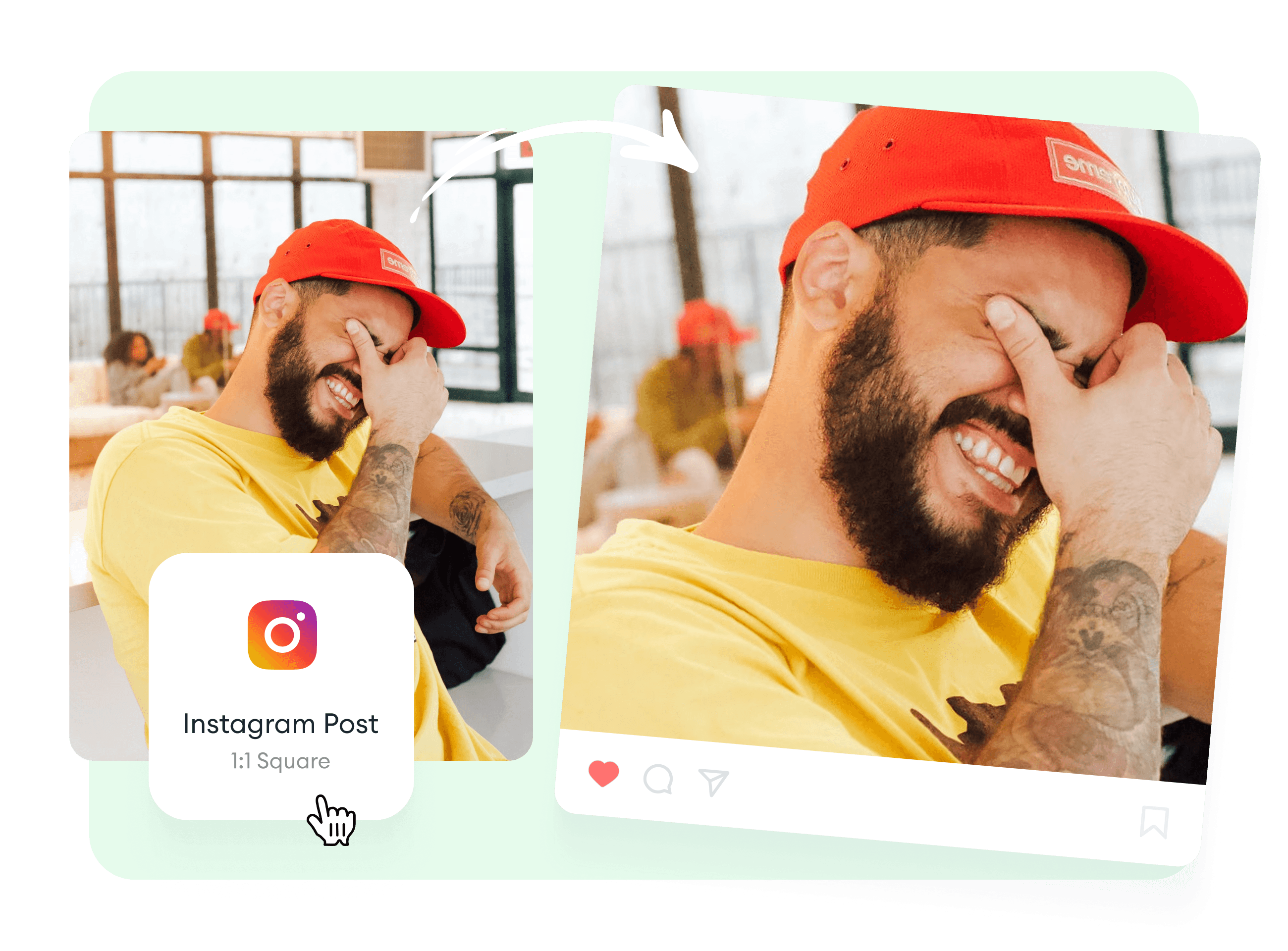 Cutting, Cropping, and more!
With VEED it's not just resizing your videos, but cropping out parts of the image, cutting or trimming parts of the video on our easy-to-use timeline, merging different video clips, that makes our editing tool so powerful. It includes tons of features that allow you to create stunning video content. Try our easy online movie maker for free, now!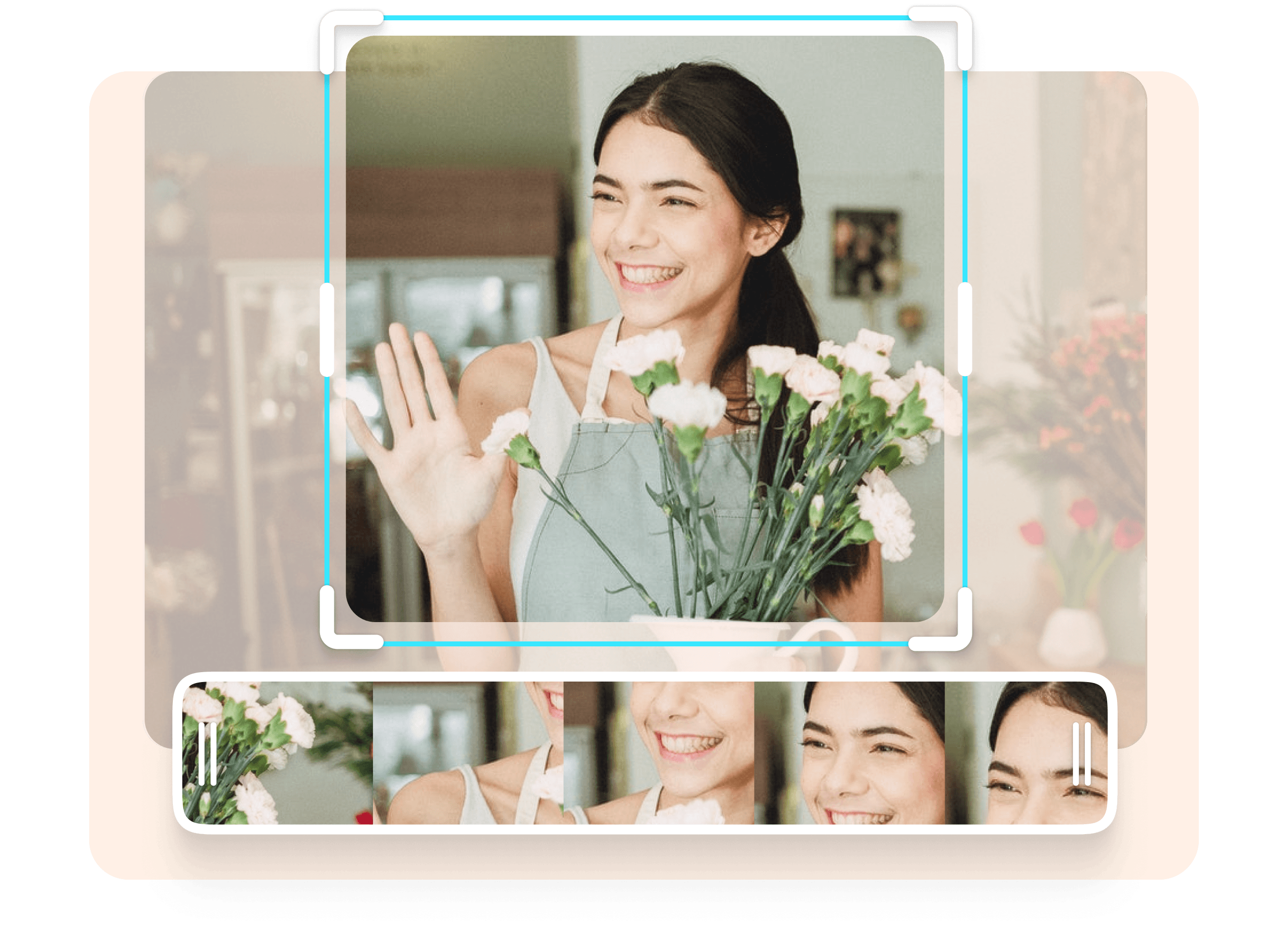 Frequently Asked Questions
What they say about VEED
Veed is a great piece of browser software with the best team I've ever seen. Veed allows for subtitling, editing, effect/text encoding, and many more advanced features that other editors just can't compete with. The free version is wonderful, but the Pro version is beyond perfect. Keep in mind that this a browser editor we're talking about and the level of quality that Veed allows is stunning and a complete game changer at worst.
Chris Y.
I love using VEED as the speech to subtitles transcription is the most accurate I've seen on the market. It has enabled me to edit my videos in just a few minutes and bring my video content to the next level
Laura Haleydt - Brand Marketing Manager, Carlsberg Importers
The Best & Most Easy to Use Simple Video Editing Software! I had tried tons of other online editors on the market and been disappointed. With VEED I haven't experienced any issues with the videos I create on there. It has everything I need in one place such as the progress bar for my 1-minute clips, auto transcriptions for all my video content, and custom fonts for consistency in my visual branding.
Diana B - Social Media Strategist, Self Employed
More than a Video Resizing Tool
No matter what your video or audio editing needs, VEED can provide you with the tools and features. You can add text and subtitles, use awesome video effects, color grading, brightness, exposure, rotate your videos, and more. VEED is the all-in-one video editing tool that makes your life easy. Try our online video editing app now!
Choose Video